I blinked in momentary disbelief.
Ryan and I were touring our room at St. Lucia's Jade Mountain Resort. There were only three walls; the fourth was a wide-open view of the island's famous Piton Mountains. An infinity pool near the far edge of the room completed the epic vista.
Our honeymoon was off to a fantastic start.
The Room
"At Jade Mountain, we call our rooms 'sanctuaries' be-cause, as you can see, 'dis is more 'dan just a room," our Major Domo said in his island Creole accent. He then handed me a small mobile phone and explained how we could contact him for anything—from making us dinner reservations, to organizing our closet.
Ryan and I exchanged glances. Luxury travel is not my expertise (hello, cheap Airbnbs) but for our honeymoon, we had agreed to save up and spend more for an all-inclusive boutique resort. By the time the room tour ended, it was clear our expectations were going to be exceeded.
The bed was wrapped in a canopy of mesh netting to prevent bugs from interrupting the sanctuary's sleepy occupants. Besides the main entrance, there were no doors in the room (even for the toilet). But there was an abundance of white noise: the rainforest frogs would start their songs at twilight, the birds woke up with the sun, and our pool's consistent waterfall muffled our voices even from each other. The sounds of nature were a far cry from the screaming sirens of Brooklyn.
Dining Experience
While our sanctuary (room JA4) was incredible, the biggest surprise was the quality of our meals. Ryan is a classic foodie. He appreciates the art of growing, preparing, and tasting food at a level I can only somewhat grasp. I'm an experimental eater and never shy away from something new—but I can't tell you about the best cut of meat, or which herbs were used in the braise.
We had originally booked at Jade Mountain's sister resort Anse Chastanet, and while the views still would have been picturesque, we wouldn't have had access to the all the best restaurants. So I upgraded our room for Ryan's Christmas present, and I didn't regret that decision in the slightest.
Nearly every night, we made reservations at the Jade Club. This eatery is perched on top of the resort and boasts new creations each evening from James Beard award winner, Chef Allen Susser. Plates of fresh seafood, tropical fruits, and exotic spices delighted us all week long. We indulged in six-course meals and sampled the cocktail or wine menu during three-hour dining extravaganzas. My favorite foodie's heart nearly exploded the night he tasted pork cheeks in a bourguignon sauce.
All of this fluffy description to say, if you don't love fine dining, Jade's hefty prices may not be in your favor. But for us, it was perfect. What we would have paid every night for dinner was the daily cost of an all-inclusive package for a couple. So factor in breakfast, lunch, and afternoon cocktails? The all-inclusive plan paid for itself, and we never thought about the price of a meal—which is a beautiful convenience post-wedding. For more dining tips, scroll to the bottom of this post.
Excursions
When we weren't stuffing our faces with some the finest food in the Caribbean, we were out exploring the island. Our favorite snorkeling spot was Anse Chastanet Beach. The fish were abundant, the cove was somewhat unoccupied, and the equipment was free to rent for Jade Mountain guests.
The most memorable excursion we booked outside of the resort was through Atlantic Shores Riding Stables. We received a private two-hour tour of the southeastern tip of the island via horseback, and took a dip in Savannes Bay. The real bucket list moment was when our guide waded into the water, clad only in his underwear, with a horse named Spice. Ryan and I took turns riding without a saddle through the shallow waves of the deserted beach.
After our ride, we were dropped off at a local restaurant on the shores of Sandy Beach. We ate local fish, and explored (in my opinion) one of the more beautiful coastlines of St. Lucia. We enjoyed views of Maria Island, a piece of land that was designated a nature reserve in 1982, and swam in the Atlantic.
Ryan and I also did a half-day excursion with Real St. Lucia Tours. Our guide, Shane, was excellent. When we changed our plan and decided we didn't want to go shopping in the island's capital, he steered us on a more adventure-based path. We hiked the Tet Paul Nature Trail, saw the "drive-in" volcano, took a mud bath, ate lunch at a local cafe, went snorkeling in Sugar Beach, and saw one of St. Lucia's waterfalls.
Note: Each of these spots requires a small entrance fee. I really enjoyed the nature trail, swimming in the waterfall, and the mud bath. The volcano tour was quite short—it's something only worth doing if you're also going to take a dip in the mud. The classic white shores of Sugar Beach are stunning, but I wouldn't need to go back. Our resort's snorkeling reefs were more beautiful, and the sand is "fake," in that it is pumped in from other parts of the Caribbean. Plus, we were required to buy drinks from the hotel bar in order to use their shuttle system from the parking lot to the beach.
Overall, it was a very enjoyable day and our guide was extremely helpful is quickly transporting us from location to location while explaining island culture along the way. We talked with him about everything from his childhood, to his current job and appreciated his local perspective.
On our last day, we utilized Jade Mountain's amenities. We booked an afternoon sailing tour through the resort that took us along the west coast. The captain filled us with rum punches and plantain chips while he pointed out facts about St. Lucia. Throughout the trip we spotted several fishing towns, as well as the island's capital of Castries. Before heading back, our small group of four hopped out and snorkeled in Anse Cochon Beach.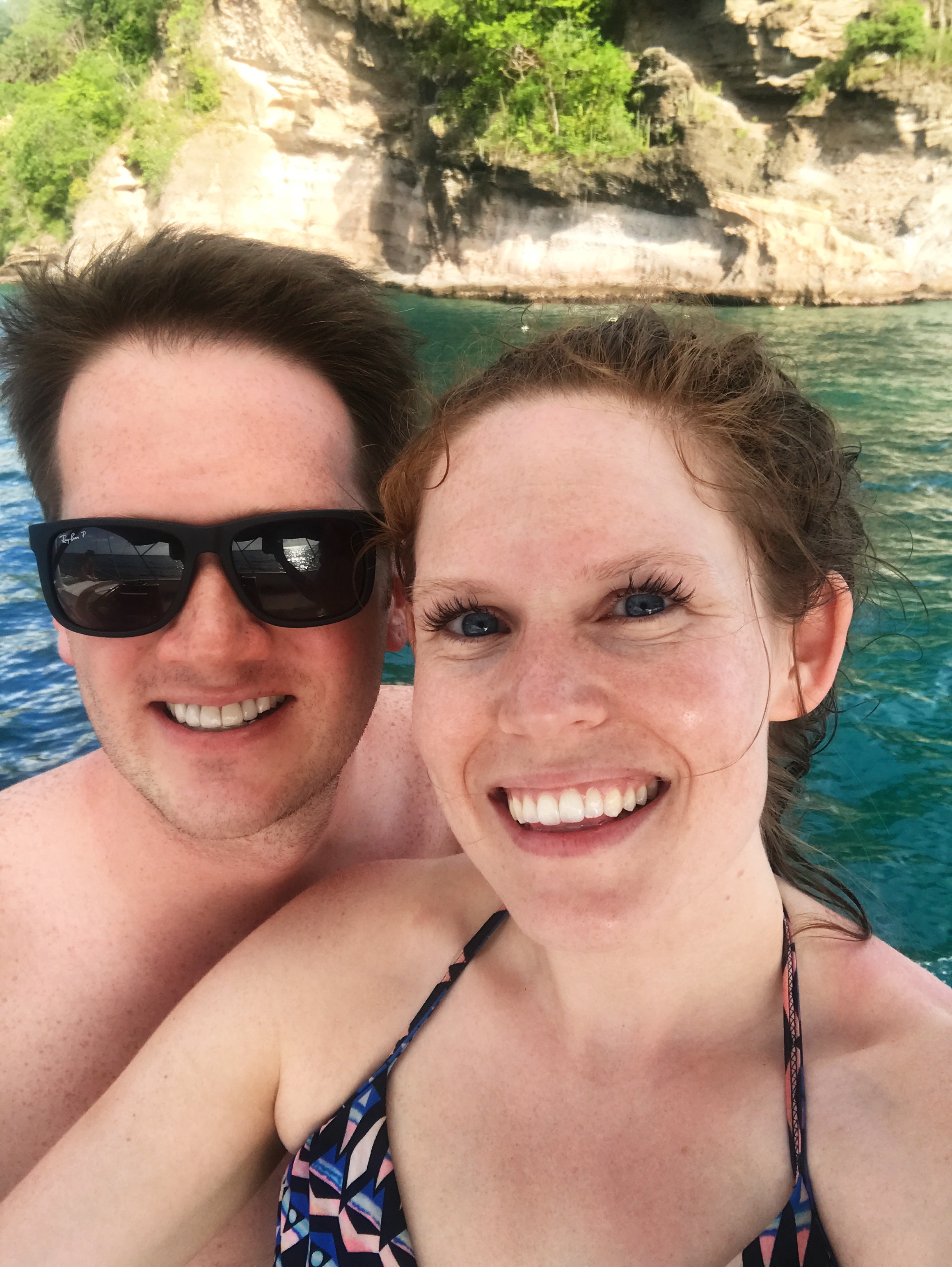 Jade Mountain Quick Tips
Tipping is a part of the culture so I'd suggest bringing at least $200 in small bills. You don't need to tip the traditional 20% on a meal. There is already a built in service charge through the resort, so we tipped one or two bucks for drinks and between five to ten for fine dining. That money goes directly to the server or driver.

If you book with a Chase Sapphire Reserve credit card, there is a chance you could be upgraded at check in.

If you are visiting from the United States, you will need a power converter for the outlets. Here's the one I prefer.

The road up to Jade Mountain is steep and bumpy. We were glad to have a driver take us from the airport vs. renting a car. Note: St. Lucians drives on the left side of the road, like in the UK.

If it's your honeymoon or a special occasion, be sure to let the resort know. We received free champagne on our first night!

Walk to Anse Mamin Beach one afternoon. It's a quick stroll from the main beach area, and it was nearly deserted when we visited. Plus there's a small restaurant that serves amazing burgers and mojitos.

If you do the all-inclusive plan, spend the majority of your dinners at the Jade Club. The food (and service) is by far the best at the resort.

Anything not included in the all-inclusive plan will be clearly marked on the menu. We found most of the extra charges applied to certain liquors, and special dining excursions.
Ryan and I had an incredible honeymoon in a beautiful country I'd love to visit again. It was both relaxing and full of moments of adventure. Between the food, the views, and the company, I couldn't have dreamed up a better way to spend the week after my wedding. Below are a few more pictures of our trip.
Happy travels!