There's something special about getting off a plane in your hometown.
I traveled quite a bit this summer (at least, for someone who maintains a 9 to 5 job). The month of May kicked off with a 9-day family trip through the highlights of Italy: We took a gondola through Venice, tasted homegrown olive oil in Tuscany, and sat silent under the beauty of the Sistine Chapel.
There were also quick trips. We traveled to Wisconsin's Door County with my husband's family for a long weekend in August. The bunch of us snacked on cheese curds and explored quaint towns along Lake Michigan's coast. The water comes right up to the Nugent's cottage, so we grilled steaks and sipped whiskey while listening to the waves crash on the shore. My personal highlight? One morning, we went to a Swedish restaurant that employs four (live!) goats to sit on their sod roof and chew grass all day.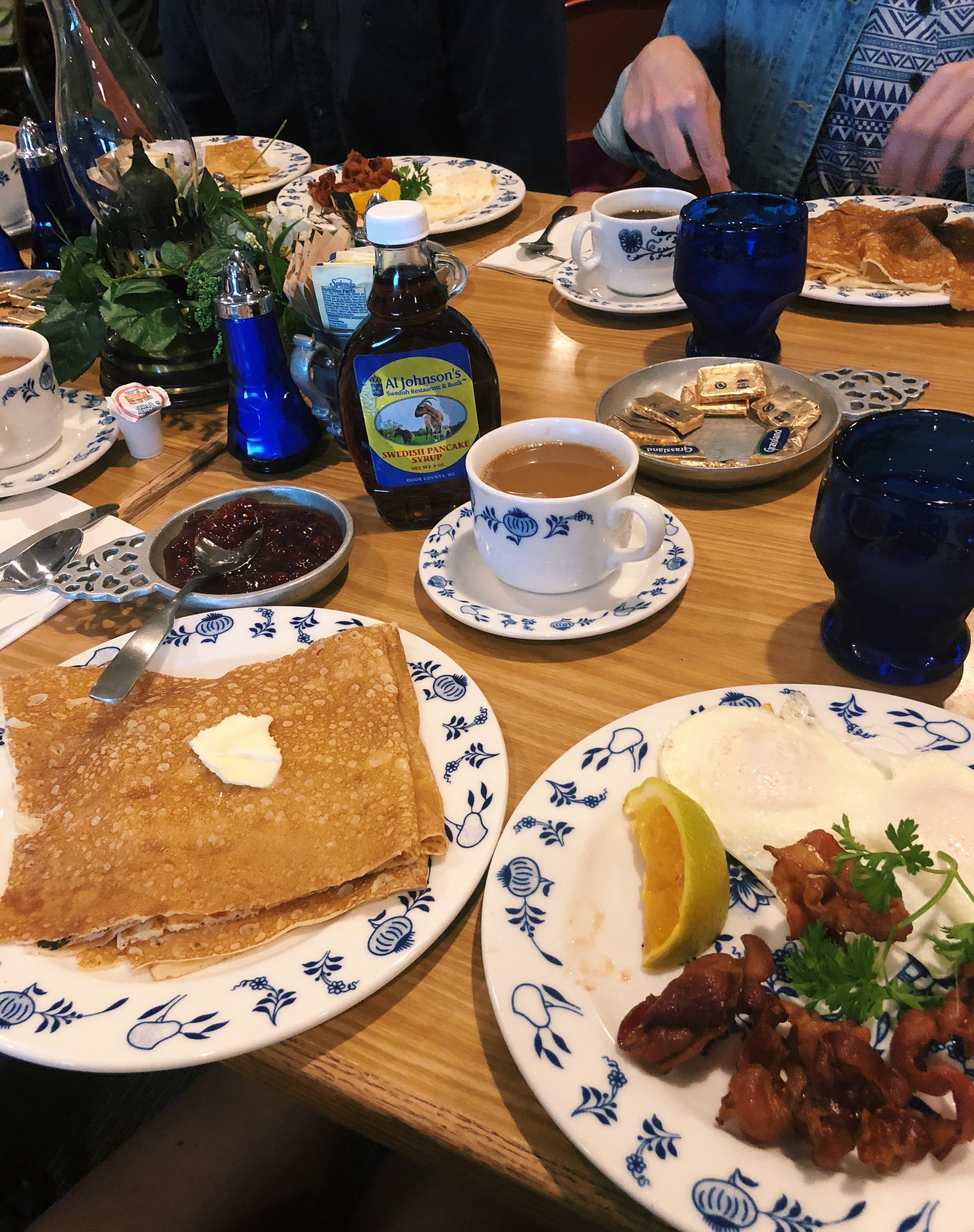 But as I said, there's something special about getting off a plane in your hometown. And that's what I did this past weekend.
As a child, the smell of Virginia must have been engrained into my mind. When the plane door opens, and I step foot into the makeshift walkway leading us to the airport gate, something deeply innate is always triggered. I am home, and there is no escaping the word.
New York is also my home.
Yes, you may have more than one.
After eight years of subway navigating, and hustling for a paycheck, and finding secret bars, and sucking up every culture and every type of food there is imaginable—I know where I find joy. It's on a deserted street with a group of friends while we scream the lyrics to our favorite songs. It's in a dark hotel bar. It's on the rooftops of a Brooklyn apartment. It's in one of the world's top museums, or in the belly of the Broadway district on a Tuesday night when the rest of the world is thinking about work the next day, but we're sneaking into a show and then hitting up the piano bar downtown. My New York Neverland is a bustling paradise that cannot be untangled from my city-loving soul.
But sometimes, I want to walk through grass without wearing shoes.
Or ride bikes to the river during golden hour.
Or not wear makeup—and let the salty, humid air style my unruly hair.
"Dad, I need another bowl of butter!" We were cracking a bushel of 84 crabs in the backyard of my parent's river house. Newspapers had been laid out over the table, and citronella candles burned as Mom dispersed Old Bay-doused shrimp to a dozen of us. The cicadas were making their summertime noise, and our dogs circled around the table looking for scraps. I'd already dissected six crustaceans and was about to smash the seventh to pieces. This task demands a knife, melted butter, a bowl of water to wash the "dead man" off, and some well-trained hands.
In this moment, it was my hands that struck me.
They moved quickly and without thought: Pull off the crab legs. Open the top shell and remove all the junk. Dunk 'em in water; split him into two pieces and pick, pick, pick…
Inherent motions.
Hand movements that wait in the back of my brain to occasionally be released.
And then there's that sweet smell of summer in Virginia, and the sounds of my family laughing around a table full of food.
Home.
I know I am lucky to have a place where I come from—and to have a growing list of "homes," including my husband's childhood towns.
It is New York City that never ceases to make me feel like I'm always on the cusp of the next, great anything. I feed off of its collective energy, like a true extrovert. But, we all have nostalgic places that let us slip into our most comfortable "at ease" selves. And something inside of us yearns for a visit to those sacred locations every now and again—perhaps to "reboot," or to seek a peaceful moment.
Virginia is one of those places for me.